SVP of WW sales Ron Miiller Left Commvault
Being nearly two decades in company

By Jean Jacques Maleval | May 3, 2019 at 2:34 pm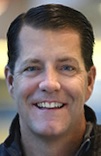 On March 31, 2019, Ron Miiller, SVP of WW Sales of Commvault Systems, Inc., resigned his position effective immediately, according to a SEC filing.
The experienced multiple executive changes over the past year including new CEO Sanjay Mirchandani and the departure of chief accounting officer Gary Merrill.
Miiller was with the company for nearly two decades and in the SVP role for 8 years.