The semiconductor industry closed out 2017 in blockbuster fashion, posting the highest year-over-year growth in 14 years.
Global semiconductor revenue grew 21.7%, reaching $429.1 billion in 2017, according to IHS Markit Ltd, in critical information, analytics and solutions.
WW Ranking of the Top 10 Suppliers of Semiconductors in 2017
(ranking by revenue in $ million)
Click to enlarge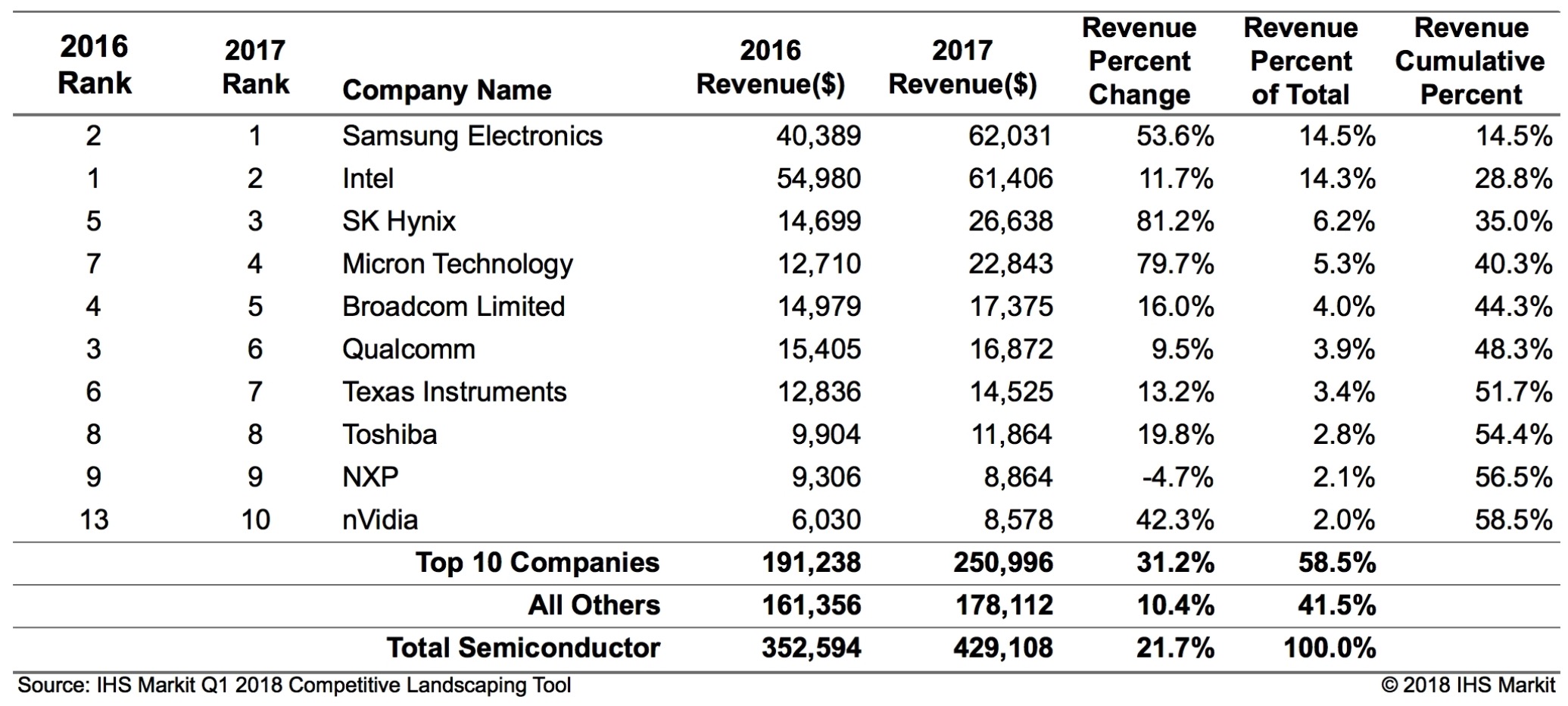 Recording year-over-year growth of 53.6%, and its highest semiconductor revenue ever, Samsung replaced Intel as the new market leader of the semiconductor industry in 2017. Intel was followed by SK Hynix, in third position.
"2017 was quite a memorable year," said Shaun Teevens, semiconductor supply chain analyst, IHS Markit. "Alongside record industry growth, Intel, which had led the market for 25 years, was supplanted by Samsung as the leading semiconductor supplier in the world."
Among the top 20 semiconductor suppliers, SK Hynix and Micron enjoyed the largest year-over-year revenue growth, growing 81.2% and 79.7%, respectively.
"A very favorable memory market with strong demand and high prices was mainly responsible for the strong growth of these companies," Teevens said.
Qualcomm remained the top fabless company in 2017, followed by nVidia, which moved into the second position, after growing 42.3% over the previous year. Among the top 20 fabless companies, MLS enjoyed the highest market share gain, moving from number 20 to number 15 in the IHS Markit revenue ranking.
Memory was the strongest industry category
Memory integrated circuits proved to be the strongest industry category, growing 60.8% in 2017 compared to the previous year. Within the category, DRAM grew 76.7% and NAND grew 46.6% – the highest growth rate for both memory subcategories in 10 years. Much of the revenue increase was based on higher prices and increased demand for memory chips, relative to tight supply.
"The technology transition from planar 2D NAND to 3D NAND drove the market into an unbalanced supply-demand environment in 2017, driving prices higher throughout the year," said Craig Stice, senior director, memory and storage, IHS Markit. "Entering 2018, the 3D NAND transition is now almost three-quarters of the total bit percent of production, and it is projected to provide supply relief for the strong demand coming from the SSD and mobile markets. Prices are expected to begin to decline aggressively, but 2018 could still be a record revenue year for the NAND market."
Excluding memory, the remainder of the semiconductor industry grew 9.9% last year, largely due to solid unit-sales growth and strong demand across all applications, regions and technologies. Notably, semiconductors used for data processing applications expanded 33.4% by year-end. Intel remained the market leader in this category, with sales almost two times larger than second-ranked Samsung.
Source: Semiconductor Industry Topped $429 Billion in 2017, Highest Growth Rate in 14 Years – IHS Markit