Rob Salmon President and COO, Cohesity
Coming from NetApp where he was EVP of WW field operations

This is a Press Release edited by StorageNewsletter.com on 2017.10.20
Cohesity, Inc., in hyperconverged secondary storage, added two new team members with industry experience – former NetApp president Rob Salmon and former VMware president and COO Carl Eschenbach.
Rob Salmon will serve as Cohesity's first president and COO, overseeing sales, marketing, and support divisions.
Carl Eschenbach, now a partner with Sequoia Capital, will join the company's board.
By continuing to add senior operating executives and board members to its existing team of knowledgeable and experienced leaders, Cohesity is building the foundation to accelerate growth among mid-sized and large enterprise accounts. Coming from two companies known for their culture, both of them will solidify company's go-to-market operations to positively impact customers, partners, and employees.

Rob Salmon will serve as Cohesity's president and COO, bringing 30 years of enterprise go-to-market experience to the new role. He previously worked as president and head of go to market operations for the storage giant NetApp, and was responsible for all customer-facing functions. Joining at NetApp during its early start-up phase, he helped grow the company's annual revenues to $6.5 billion over his 22-year tenure. Before NetApp, he worked in sales roles at Sun Microsystems and Data General. He serves on the board of Special Olympics Northern California, and as an advisor to the Asian American Donor Program (AADP) for the National Bone Marrow Registry. He earned his B.S. in Computer Science from Chico State University.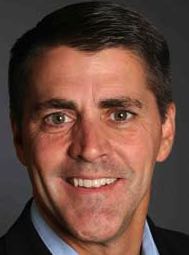 Carl Eschenbach joins Bill Coughran in representing early investor Sequoia on the company's board. At Sequoia, he focuses on infrastructure and SaaS and provides operating expertise to the firm's portfolio companies. As the president and COO of VMware, he helped architect the company's go-to-market strategy and increase its revenue from $31 million to more than $6 billion. He has also served as VP of North America sales at Inktomi, and held various sales leadership positions with 3Com, EMC, and Lucent Technologies.
Excitement for the $60 billion total addressable market for Cohesity's hyperconverged secondary storage, and for its web-scale, software-defined platform, motivated both executives' decisions to help lead this phase of growth for Cohesity.
"Rob and Carl will add important insight and guidance to Cohesity's leadership team based on their impressive tenures working with two of the most successful storage and management companies in the world," said Mohit Aron, CEO and founder, Cohesity. "Having the privilege to bring on such respected executives is a testament to the transformative value of Cohesity's innovations, and we look forward to rapidly expanding on our early success."
"This role represents an incredible opportunity to define an entirely new category in storage," said Salmon. "Cohesity is solving the increasingly critical problem of unmanageable growth in secondary storage silos within enterprise IT. I'm excited to join a world-class team where I can use my experience to drive customer success, continue the momentum of building a positive culture, and make a lasting impact on the industry."
"After just two years on the market, Cohesity is positioned to revolutionise the storage industry," said Eschenbach. "I look forward to helping large enterprise customers across the world remake their secondary storage to be more efficient and cost effective."
Close div post-content